Hey Nu Babes, it has been a long summer and it's not over yet! July's edition of "What the Editors Bought" features clothing from Brandy Melville, Fashion Nova, Public Desire, H&M, and so much more, also featured are some pretty dramatic price differences ranging from $56 to completely free.
Don's Purchases:
Though I did not spend a lot of money and buy a lot of clothes this month, something tells me I'll more than make up for it in August. In July, one of my favorite clothing websites: Fashion Nova, did something I never heard of; for every item purchased you'll get an additional item free as long as it's of equal or lesser value. In other words, for every two items you add to your shopping chart whichever one is more expensive will be the one you pay for, the other item is free. Me being me, I almost bought the whole website, and next month if they have a sale like that again, I will! After careful consideration, I was able to narrow down what I had to have, and what I had to have right-then-and-there. These are the two items I could not live without.
Rate 8.5
Her Majesty Denim Jacket – Black
$44.99 USD
This Lion King inspired jacket is a must-have for Fall. Sure, it's comfortable, like all denim jackets are, but who cares about comfort when the jacket is this cute. I live in Texas, it's the Summertime, and I have already worn this jacket so many times I've lost count. The things I do for a good monochromatic moment. I recommend wearing this jacket with some high-waisted black jeans, tucked in, a white shirt with short faux-leather black sleeves, and patent leather booties, that's how I wore it.
https://www.fashionnova.com/collections/jackets-denim-jackets/products/her-majesty-denim-jacket-black
__________________
Rate 8.0
Two-toned Denim Jacket – black/combo
$39.99 FREE!
At this point guys-only jackets no longer exist. Sorry boys, but the only two options are girls jackets and intersex jackets masquerading as guys jackets. What I love most about this jacket, besides the fact that I got it for free, is how different it is, I'm living for the two-toned trend. I've also worn this jacket a few times already, yes, in Texas' summertime, and got major modern 90's vibes. Black high-waisted jeans, patented leather boots, and a white graphic tee that says "black, no sugar, no crème," yes please!
https://www.fashionnova.com/products/two-tone-denim-jacket-black-combo
______________________________________________________________________________
Sofia's Purchases:
This month, I loaded up on some really cheap basics, but not without thought about quality, breath-ability, and longevity. Everything in my bag was a capsule closet's dream: interchangeable.
Rate 10
Denim is difficult, but for me and my fabric sensitive skin it is two times harder. I was hesitant to stray away from skinny jeans, but when cuffed the right way and worn with feminine shoes, these cotton mom jeans look so chic and grown up. These Cotton On 90's mom jeans fit my waist perfectly. Un-cuffed this is a classic straight leg jean, but it is 98% cotton and 2% spandex so the size that fits your legs is not going to gape obnoxiously in the back. These are the best thing I bought for myself this month, and they were only $40.
https://cottonon.com/US/stretch-mom-jean/2003128-37.html?dwvar_2003128-37_color=2003128-37&cgid=&originalPid=2003128-37#q=mom&lang=en_US&start=1
__________________
Rate 9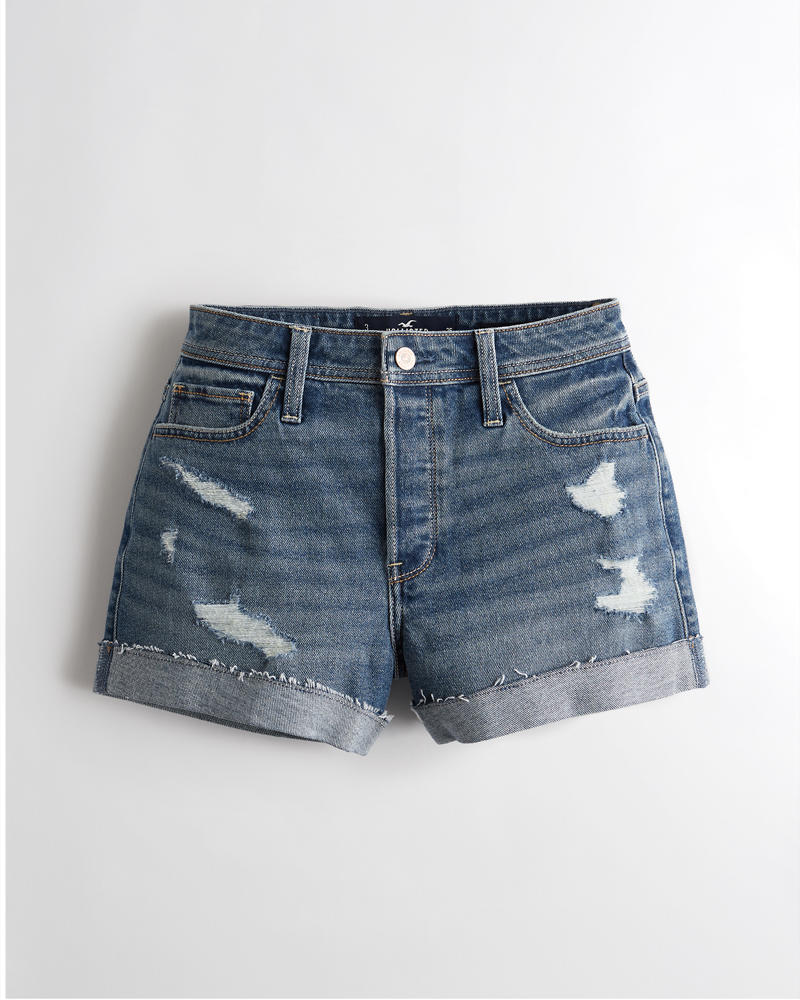 Denim is difficult (part 2). The size I wear exclusively at the stores is runs true to my waist size in inches. I had been picking out my shorts all wrong especially in stretch denim. These are the only denim shorts I own that I have not had to alter with big darts. these are a great staple for any outdoor summer occasion because that are hemmed appropriatetley and have minimal distressing detail, so you can still throw them on for a family barbecue
https://www.hollisterco.com/shop/us/p/high-rise-denim-mom-short-3-and-quot-15356824?seq=04
_______________
Rate 9
I needed something edgy for my shoe collection. This looks good with even the most boring all black outfit. The reason is the extra shininess of the patent leather. Mixing textures is a low risk, high reward way to build an outfit, especially in colors like black, white, grey, or beige. I throw these on for any dressed up, night out occasion.
https://us.asos.com/public-desire/public-desire-raya-black-patent-sock-boots/prd/10959107
________________
Rate 8
A good basic t-shirt is as worth mentioning as any other product. I use to struggle with building a wearable wardrobe because nothing matched, and I hated plain tees. There are three key details that make this more than a boring white tee. It has a frocket, sewn cuffed sleeves, and stops just below my waistline. I can style it as a crop top on a hot day, or wear it with high waist bottom and be off to work with an effortless, stylish outfit.
https://www2.hm.com/en_us/productpage.0411413002.html
____________________
Rate 8

Brandy Melville is sold at Nordstrom, so my employee discount came in handy. You can get really fun summer clothing for the items that actually fit (being that they exclusive sell size small worldwide). I had a variety of plaid or checkered skirts to decide from, and this one reminded me of my middle school days in a non cringy way. I had a red plaid skirt and until I outgrew it, I made it work with anything and everything. I once wore a pale pink tank top with it and to this day that is one of the only outfits from my adolescence that I have not burned from my memory.
https://www.brandymelvilleusa.com/cara-skirt-z104-s071-q56.html